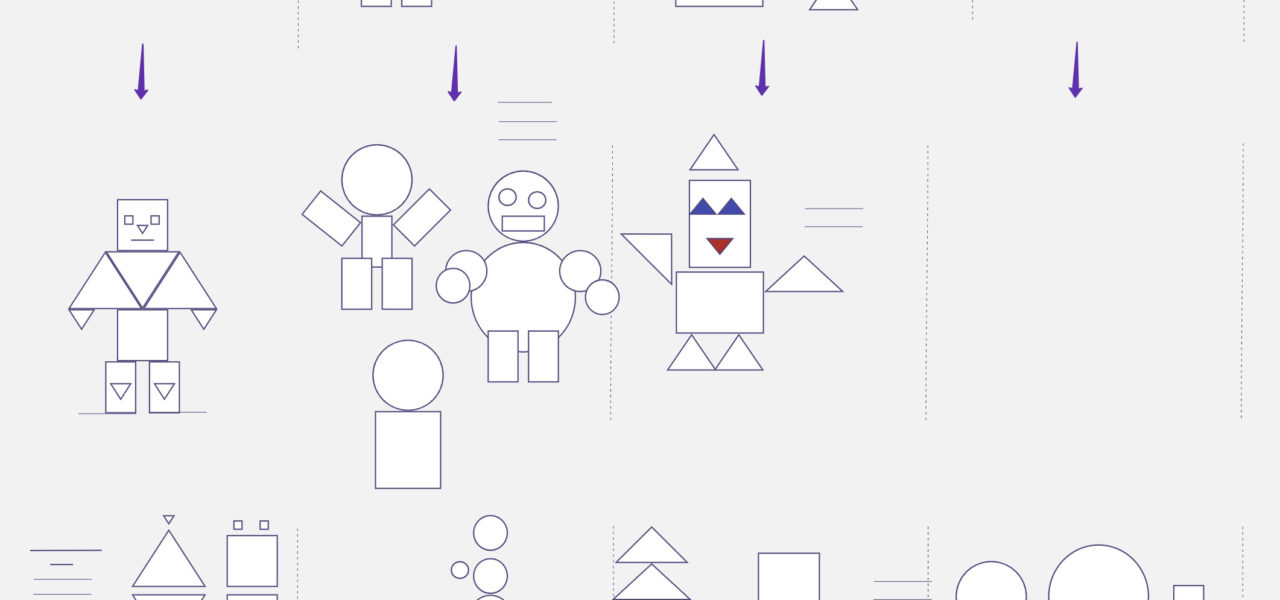 Visual Thinking – Construct/Deconstruct
Construct/Deconstruct
What happens when we break things down into their individual parts?
When we work with our clients, we are dealing with complex issues of corporate culture or product development. In order to deal with the issues, we have to break them down into their individual components. Be it a team that has not yet found a common voice, does not yet have a common vision, or even a team that has not yet agreed on a common structure, communication and channels. We help our partners to clear the clutter of needs, ambiguities and unstructuredness. Our premise is to break down complexity into its components.
What sounds trivial at first, does not always succeed in practice as a matter of course. On the one hand, as part of the organization, there is the danger of losing the overview and falling into a so-called operational blindness, on the other hand, one is possibly part of the problem oneself. We help to adopt new perspectives and above all to deconstruct them. Does the team have a vision in its endeavor? Have the individual employees thought about the purpose of their work? How is communication done, what is the meeting structure, and is there a feedback culture? These can be individual parts of a larger whole. These components can be played with and re-constructed.
In an inspiring Barcamp session that we had the pleasure of experiencing at our partner conference ComX, our dear colleague from launchlabs Sofia, Alexandra Nikolova, did a wonderful job of working through the topic of Construction/Deconstruction. Alexandra presented us a team exercise in which you could construct meaning from simple shapes. So first construct and then deconstruct. The participants built figures from given squares, triangles and circles in order to deconstruct them afterwards and then, in a next step, to create something new.
The goal of this team exercise was to playfully learn how to express themselves visually. But the philosophical context for our working world imposed itself. For our clients as well as for us it means to dissolve confusion or complexity to a comprehensible level in order to become capable of action. To construct anew in the sense of experimenting, i.e. trying out and adapting.
To disassemble a structure into its details is a childlike desire. To take apart toys. To find out what is hidden behind the eyes of the doll. Alexandra was inspired by a cabaret artist who "cleans up" famous paintings. He disassembled an abstract painting by Kandinsky into its individual parts and lined up the shapes according to size. He cleans up Van Gogh's bedroom in Arles, or rather stuffs all the living utensils under the bed. He deconstructs a reality and takes the freedom to rearrange and reassemble it. We convey this freedom to our clients in order to influence their own working culture with interventions, to create something new.
published: 01.06.2021