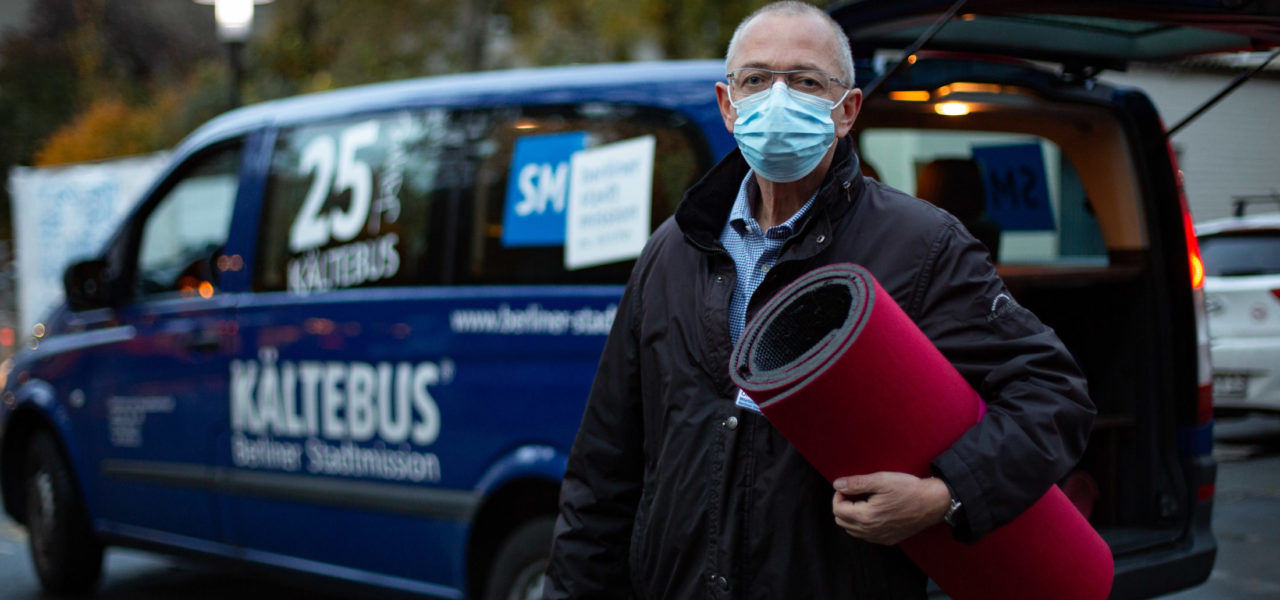 The "Berlin Kältebus"
Wintertime is donation time. This year we would like to support an institution that is particularly close to our hearts. The Berlin Kältebus. It drives through Berlin at night and protects people without shelter from freezing to death.
Karen Holzinger and her colleagues had the idea to initiate the Berlin Kältebus 26 years ago. In this interview, she talks about her work.
Ms. Holzinger, how did you come up with the idea of setting up the Kältebus?
I am a social worker and at that time I worked in a facility for homeless people, similar to the soup kitchen. So when, during my first winter, I got the news of a person freezing to death outside, it hit me hard. I thought to myself: the best help is useless if it doesn't reach the people.
And then you had an idea…
Exactly. We took a bus, packed it with food, but also with blankets against the cold, and went to the homeless people at the train stations. We wanted to know exactly where they were staying so we could help them better. Actually, we had planned to take the homeless to the facilities by bus. But that doesn't always work out.
Why?
Some homeless people are in poor health and hygiene due to living on the streets. They smell strongly and often have parasites such as lice.  Others are mistrustful or also psychologically very distressed. It then sometimes takes a long time for them to develop trust us and come along. And sometimes the facilities are unable to cope with their care or the sheer number of people in need.
How do you do it today?
Today we are using the bus as a means of contact. We go to the people, hand out tea and warm blankets, and motivate them to visit our Berlin Cold Aid facilities. There they can take a shower and experience safety and warmth for a few hours. Above all, they can get advice: What are the options apart from living on the street? My colleagues and I are helping with that.
How do you organize yourselves?
We are a team of several volunteers and two employees. We take turns with the driving services.
If I see a homeless person who needs help: How do I reach the Berlin Kältebus?
The Berlin Kältebus bus can be reached by phone: 0178 523 58 38 from 8:30 p.m. to 02:30 a.m.