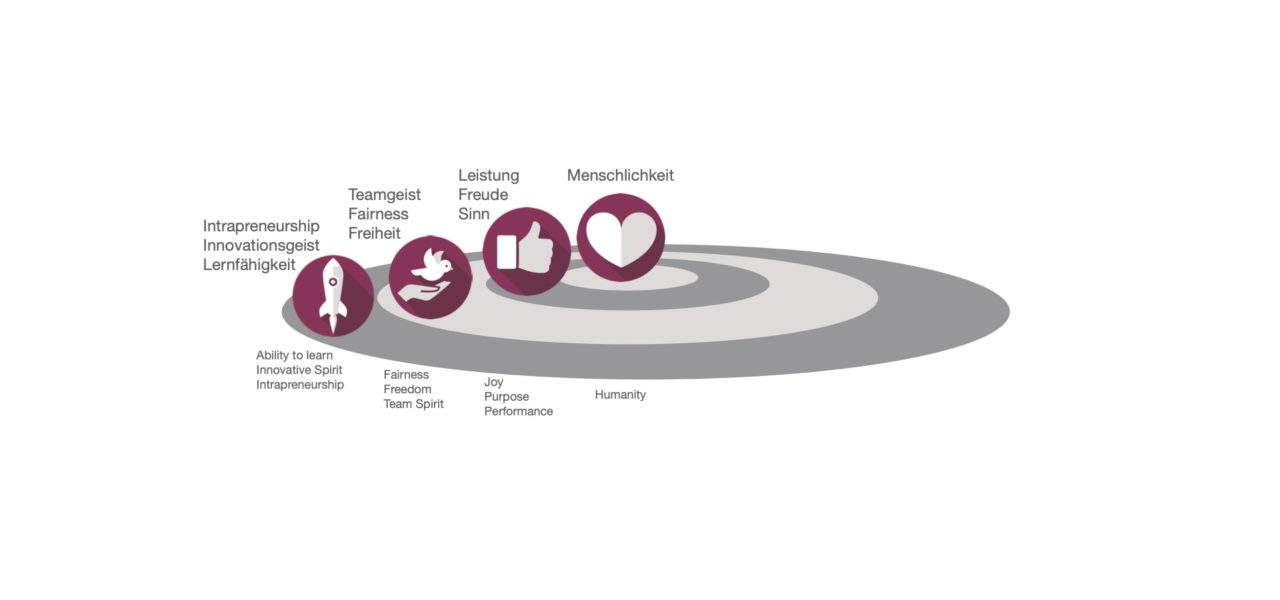 launchlabs values
launchlabs' values serve as a basis for our teamwork as well as our daily work with partners, service providers and clients.
In teamwork, launchlabs has developed its values in 2018. All in all, our values form a "circle of values" with humanity at the very center. Through the principles of action, we strive every day to bring our values to life. This means that an abstract value like "freedom" becomes more tangible. One of these principles is, for example, "We have the freedom to be ourselves as long as others can enjoy the same freedom".
What is the core of our cooperation?
Humanity – empathy and kindness: Our humanity expresses itself through kind-heartedness, understanding for each other and the desire to help.
What is our fuel?
Performance – quality standards, cooperation and fun: It is our standard of quality to provide extraordinary services for our customers, partners and colleagues. We enjoy performance while not neglecting the importance of a break. We are striving for healthy growth without letting our daily routine being dominated by metrics. Since we all identify ourselves with the purpose of what we do, we are intrinsically motivated to perform.
Joy – lightness, laughter and fuel : Joy is our fuel for creativity and daily work. Our joy manifests itself in effortlessness, fun in life and performance. Joy inspires us to give everything. It creates a good atmosphere of collaboration because joy is contagious.
Purpose – society, environment and people: We want our work to be meaningful for us and for others. We strive to act in a way that creates added value for everyone. We take responsibility for society and the environment by consciously having a far-sighted view of our actions, without becoming incapable of action. At the same time, we want to preserve our personal well-being and health in the long run.
How do we want to work together?
Freedom: We feel free to get involved, design and decide to the best of our knowledge. Freedom is the ability to pursue our own needs without harming the team.
Fairness – respect, commitment and transparency: Fair behavior means that everyone can act according to their wishes without causing any problems for others. We consider everyone as equally important; we respect differences and acknowledge individual resources. We respect the consequences of our own actions, both locally and globally. This enables us to create meaningful results on both levels. We fulfill our promises; our decisions are kept as transparent as possible; thus, everyone can effortlessly understand our actions.
Team spirit – trust, prudence and support: We trust each other in everything we do. We work with care with each other and support each other. When we need help, we clearly say so. Likewise, we try to support others even if they don't realize that they need help. We work in such a way that others are not negatively affected for no reason.
What do we strive for?
Intrapreneurship: We act and think like an entrepreneur within the company. Thereby, we consider possibilities, relevance, interests and costs to the best of our knowledge. We are proactive and prefer to communicate rather once more than to be disappointed afterwards. We draw our energy from the intrinsic motivation to do the right thing for launchlabs.
Innovative spirit – eager to experiment, creative: We enjoy trying out new things without neglecting the lean approach and losing sight of costs and benefits. We develop visions without neglecting the implementation. Our minds remain creative and open without losing focus.
Ability to learn – individual, team and organization: We promote the development of each person and build on his or her potential. At the same time, we tackle tasks outside our comfort zone, even if we may feel that we have not yet mastered a skill perfectly. We learn in order to change. We change in order to improve. In doing so, we learn from each other as well as from our environment – on a small and a large scale. We share our knowledge with each other so that the entire organization can learn. The launchlabs are innovative as we incorporate what we have learned into creating new things.
How do we live our values?
We regularly celebrate our values with so-called Values Cards: the idea goes back to Kudo Cards or Thank You Cards. Originally, we placed such a Value Card on the desk of the respective colleague with a personal greeting message as a small thank you and surprise. By now, we give out the values cards digitally in our weekly team meeting. On the value card, we describe to whom the thanks goes and in which situation the colleagues lived the respective value.
In our retrospective on values, we regularly discuss our values and how any work situation or decision may conflict with our values. Usually, our discussion gets most interesting when initially no topic comes up. While looking at the values, often a team member brings up a topic that would never have come up otherwise. The values retro is deliberately not about solutions but about an open discussion. We can simply express our personal thoughts and feelings – all the more important at a time when many colleagues are in home office and do not meet for an informal talk at the coffee machine.