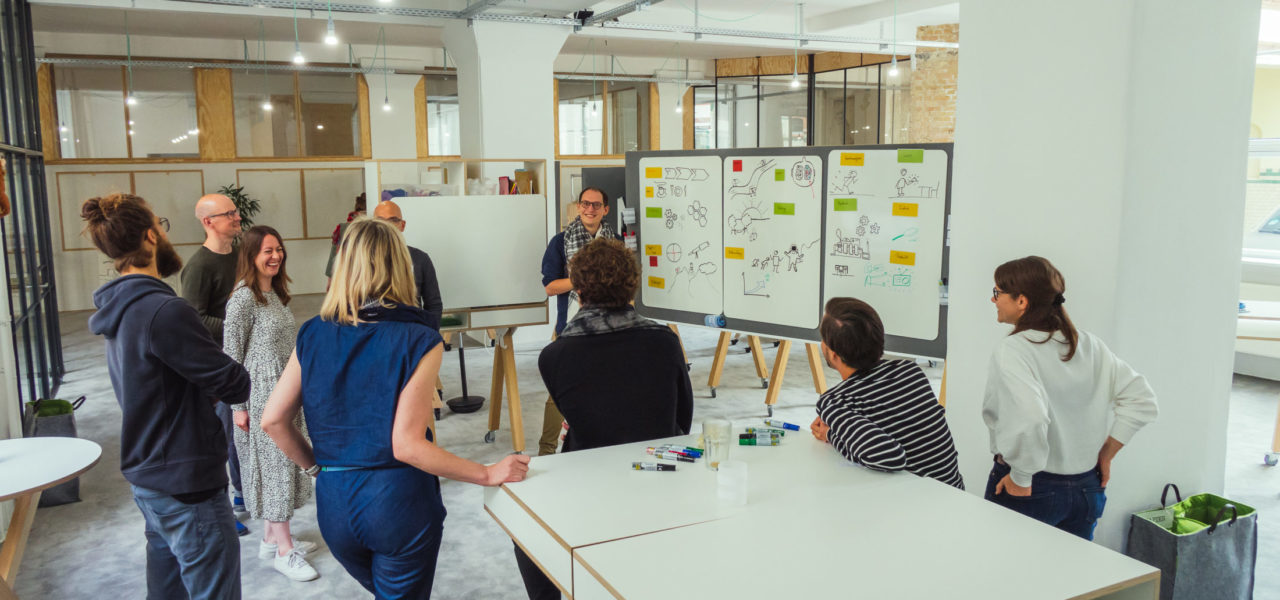 An introduction to our Agile Coaching approach
Imagine a team in an organisation that is newly formed and they have to deliver within a short amount of time, at best a product that works effortlessly. Sounds familiar? That's a reality in the majority of organisations, from small to large, on a national as well as international scale. 
In fast-paced markets such as today's and ever-increasing customer demands and expectations, teams have to work hard to deliver the expected outcomes and create successful products and services. It's not easy to be as swift, which is why so many companies nowadays seek a specific magic solution: working agile. Yet to be truly agile, it is also necessary to differently structure organisations and the ways people are working together. 
Seeing people in the center
Of course, teams should be high-performing and deliver results. In order to do that, however, you need some core ingredient amongst others: happiness and motivation. People that are happy, heard and can express themselves are much better suited to deliver great solutions and form organisations that thrive today. And one of the major "new" roles in this is the Agile Coach.
We have always approached our projects from a human-centred point of view. That's why Agile Coaching lies so close to our hearts, it's about people at the core and giving them the power to exhilarate. Once you deal with people, you deal with complex systems. Consequently, we stress the importance of having a multi-perspective approach as an Agile Coach.
Use of a variety of practices 
Some companies rename the Scrum Master and call them "Agile Coach". Hence the thinking might be very much rooted in the Scrum way of thinking. Which is perfect for some applications and situations, but by far not all. We believe the values, principles and practices need to be understood on a higher level, and for each context (team, organisation, market) there needs to be a different approach: Scrum, Design Thinking, Lean Start-up, Kanban, DevOps, … the list goes on and on. 
For our learninglabs, we design the training program according to the client's needs. We built on our expertise from the previous work we did with SMEs and large multinational corporations, and sit down with the person(s) in charge to create an Agile Coach curriculum that suits the context of the people trained. An Agile Coach covers topics across a variety of layers, from coaching an individual team member, training the team of a specific division, consulting leaders or being involved in the organisation's transformation, amongst other activities. 
Collaboration with our client
With one of our clients, the journey looked as follows: After our first pitch and meetings, three colleagues from launchlabs met with 3 people from the client's side. Collaboratively, we designed the first rough outline of our curriculum in a 4-hour workshop, which gave us further insights into their specific needs and requirements, as well as restrictions. It created a good base to now develop a curriculum and learning material, that could be piloted very soon after the first collaborative workshop. In these modules with participants, it was key to gather feedback continuously. This allowed us to further iterate the modules whilst new groups (with 24 participants each) started their journey towards becoming an Agile Coach. 
Feedback from the continuous iteration and further workshops highlighted the importance of an Agile Coach being very much involved on an organisational level, much more than we had expected at first. Coaching and conflict management also became more relevant, all of which will now find its way into iterated versions of the curriculum.
As we see, each client and its organisational context, needs and requirements are different. All of this further strengthened our point of view that an Agile Coach needs a wide variety of skills to be effective within an (yet to become) agile corporation. Any organisation lives from people, be it their employees, leaders or customers. Agile Coaching means enabling everyone to perform better with less tension and to deliver to satisfied users.
For further information please contact us at: hello@launchlabs.de