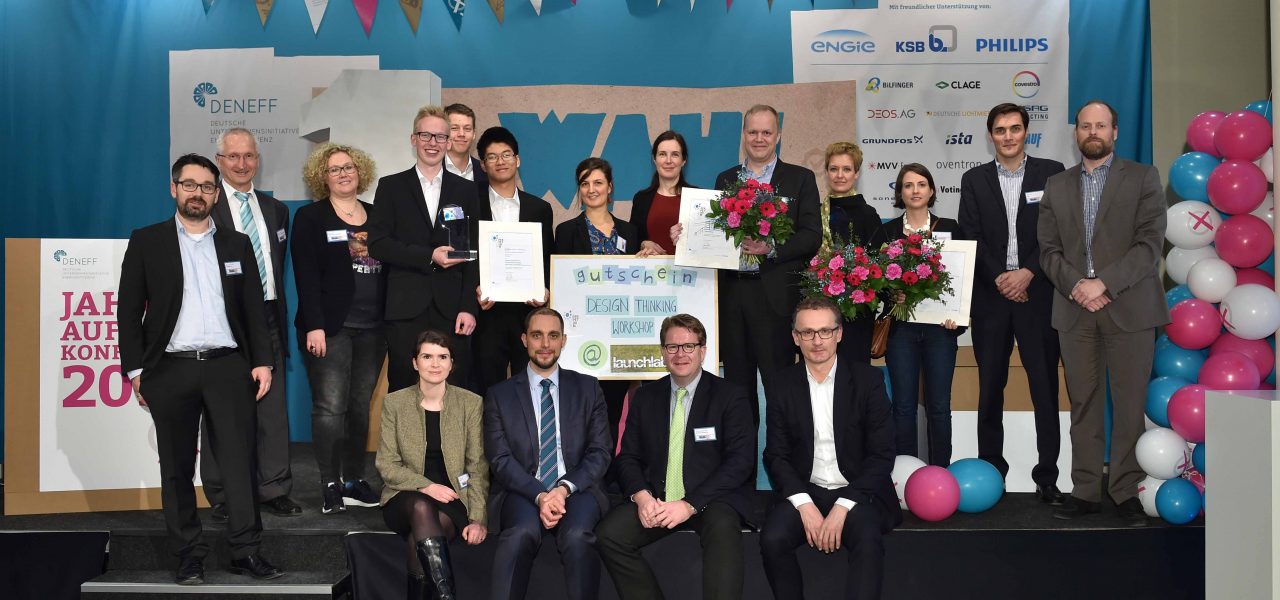 Sponsoring energy efficiency
Client
DENEFF
launchlabs supports energy-efficient innovations
"The first choice: energy efficiency" was the theme of the annual conference on energy efficiency of the German Energy Efficiency Initiative (DENEFF) in Berlin on March 7, 2017, in which the DENEFF perpetuum prize was also awarded.
For the third time already the launchlabs supported this award with pitch training and design thinking for the winning team: To prepare for the "Elevator Pitch" at the annual launch conference, the launchlabs invited the ten nominated finalist teams to a pitch training in the launchlabs Kreuzberg Innovationloft. Here the participants were introduced to the methods and subtleties of the pitching arts and were able to develop their respective pitch under the guidance of the experts and taking into account the feedback of the other participants.
More than 300 participants from industry, associations and politics, as well as the selected jury, were able to use exactly five minutes and four slides to present their innovative products, services and services in the energy sector, and to show that their projects or projects Products can bring energy efficiency in Germany forward in an innovative way.
Design Thinking für das Gewinnerteam beim Perpetuum Preis der DENEFF
Überzeugt wurde die Jury von der Aurelia Turbines GmbH mit der "effizientesten kleinen Gasturbine der Welt". Aurelia Turbines entwickelt hocheffiziente kleine Gasturbinen für Kraft-Wärme-Kopplung für Prozesse der Kleinindustrie und KMUs. Die Gasturbine hat einen hohen Wirkungsgrad auch im Teillastbereich, weist geringe Emissionen und Wartungskosten auf und verfügt über eine kurze Amortisationszeit. Sie ist zudem auch für Sonderbrennstoffe, wie Biokraftstoffe, geeignet.
Das internationale Gewinnerteam war in das Innovationsloft der launchlabs Berlin eingeladen, um basierend auf agilen Methoden und Design Thinking Kommunikationsstrategien dazu zu entwickeln, wie der Mehrwert und die Besonderheit der Turbine an Kunden aus verschiedenen Branchen gezielt vermittelt werden kann. Dazu konzipierten unsere Coaches eine Agenda, die das Ziel verfolgte, marktspezifische Bedürfnisse zu identifizieren und  Aurelia erlaubt ihre Strategien entsprechend auszurichten. Mit der Why/How/What-Methode erkundete das Aurelia-Team ihr eigenes Wertangebot und verknüpfte dies mit ihrern kundenspezifischen Herausforderungen in einer Value Proposition Map. Ein Pitch Training und ein Action Plan zur Visualisierung der nächsten Schritte rundeten den Workshop ab.
Die launchlabs freuen sich sehr, die Aktivitäten der DENEFF zu unterstützen und somit einen kleinen Beitrag zur Förderung und Etablierung von Energieeffizienz innerhalb Deutschlands und darüber hinaus leisten zu können.