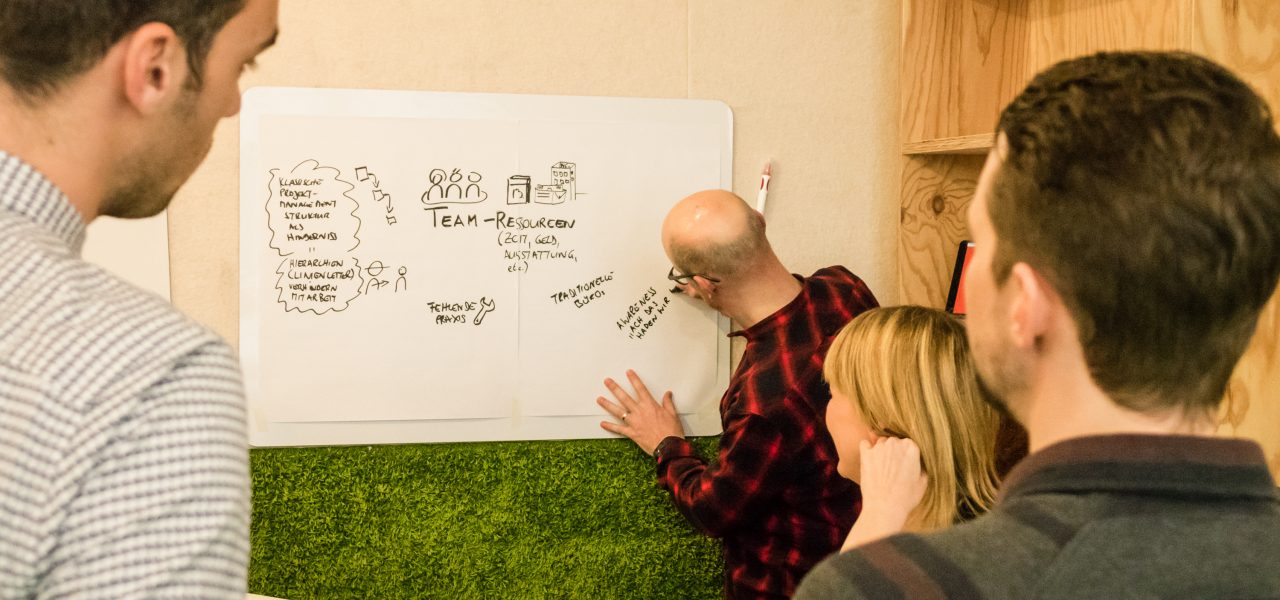 openlearninglabs 'Facilitator' – open training to support agile teams
Become a Design Thinking Facilitator and navigate teams through the agile culture shift!
Are you the one who wants to bring Design Thinking to the next level in your company and tackle projects and processes in a user-centered way? Do you sometimes long for sparring and support to strengthen your role? Would you like to know more about what makes a good support of agile teams? Then our openlearninglabs 'Facilitator' is the right training for you!
For whom?
Professionals from all industries – employed or freelance – who are already Design Thinking Practitioners or have previous Design Thinking experience and want to intensify their skills to support agile teams and projects.
What?
Multi-faceted insights into and support in the daily agile (project) work – this is what you receive in our open, 2-day training format with individual support along the way. You will learn to:
Successfully align your role as enabler of agile projects, processes and teams
Design agile workshops or projects
Maintain your confidence when things get difficult
But that's not all! To make your path to becoming a facilitator sustainable, we accompany you beyond the training days. Three individual video coaching sessions will help you to grow in your role.
Thereby:
We reflect together on what is currently going on in your work context
We give you tips and tricks on how to deal with the (team) dynamics in companies undergoing cultural change
We introduce you to new methods
We help you to design and set up your own agile workshops and projects
When?
Appointments by arrangement. Please contact us for the upcoming dates. Here you can find our contact details.
IMPORTANT: In general, our trainings are in German. Please contact us to get more details on our next English version.
Where?
The openlearninglabs 'Facilitator' training takes place in our innovationloft in Berlin Kreuzberg, Germany.
Click here for the exact location!
How much?
2 training days (incl. catering) + video coaching (3 x 1.5 hours)
3000€ per person
Registration* at hello@launchlabs.de
*Registration for the openlearninglab is binding with prepayment, no cancellation possible, tickets are transferable. The minimum number of participants is 4.