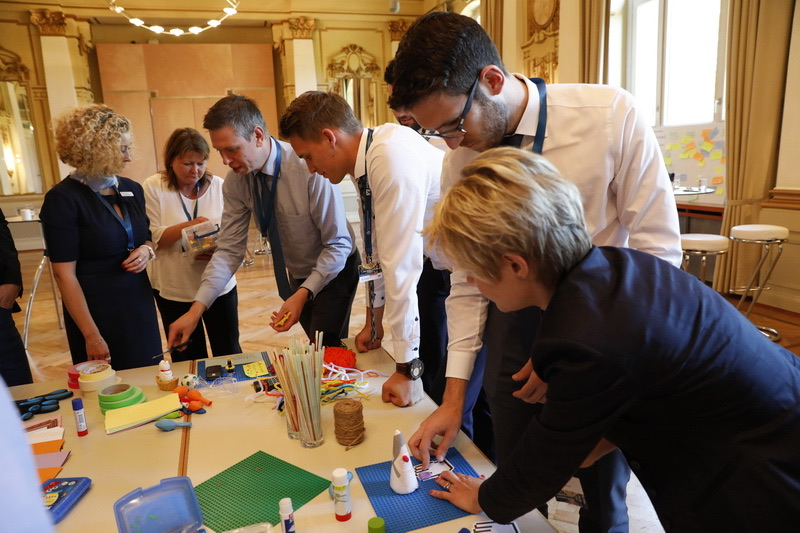 X-Company: Work with us across companies and become a Design Thinking Expert!
Are you ready for the next step?
Are you an experienced Design Thinking Facilitator? And do you want to look beyond the agile boundaries of your company? By participating in our cross-company learning format, you will gain practical moderator experience in various organizations and become an all-round expert in Design Thinking!
Aim:
Gain new perspectives: What happens in other agile-oriented companies? How do they deal with agile methods and transformation?
Gain more self-confidence and routine with us by your side when designing and moderating Design Thinking workshops and projects.
Get insights and inspiration through launchlabs training formats.
Learn with and from like-minded people to create a more agile working environment together!
What's it about?
This learning format is about exchanging expertise and networking: You are working on site with us at our customers and learn from real workshops and projects that you actively support – learning by doing! This allows you to deepen your skills as a Design Thinking Facilitator and learn to apply them in different contexts.
How it works:
launchlabs establish contact to other companies that are currently transforming and learning to implement agile working methods. They are open to 'outsiders' who can support them and are looking forward to exchange.
launchlabs will intensively support you and your so-called host company. It means that you will:

receive an appropriate briefing on the context, programme and tools to be fully prepared for the workshop.
OR create the agenda and prepare the workshop together with us and your host company.
run or support the workshop as a moderator, co-moderator or team coach.
receive feedback on your moderation skills from us and your host company.
About your host company:
The organisations we´ll take you to are large to medium-sized. They are our (former) clients, whom we train(ed) and/or support(ed) in their agile change process. Based on your wishes and experiences, we discuss together which organization suits you best to grow in your role.
Duration:
1 day up to several months. That's up to you and your host company!
Where:
On site at your host company or at launchlabs Berlin.
Is it something for me?
This cross-company learning format specially has been developed for people who have already completed a training as a Design Thinking Facilitator and have already gained experience in their own organization / work area.
This learning format is the right choice if you want to explore and support different agile work environments and take up the challenge of becoming an all-round Design Thinking Expert.
For further information and registration:  hello@launchlabs.de